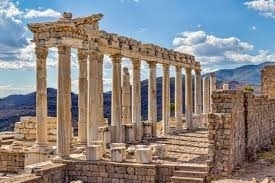 Bergama (Pergamum), which was one of the main centres for culture,
architecture and sculpture of the Hellenistic world, lies in the
north-western Aegean Sea, located about 107 km from the city centre of
Izmir and 30 km from the sea coast. Bergama displays structures from the
Hellenistic, Roman, Byzantine and Ottoman periods, as well as the
prehistoric period. The first settlement of the town began in Acropolis
(upper city). The Acropolis of Pergamum was equipped (197-159 BC) with
the finest works of the period during the reign of Eumenes II, and it
became one of the major cultural, architectural and sculpture centres of
the Hellenistic world. The major buildings in the city are the Temple
of Athena, the Trajaneum, theatre, library, Heron, the Altar of Zeus,
the Temple of Dionysus, the Agora, the castles and the arsenal.
Asklepieion, dedicated to the god of health Asclepius and also one of
Apollo's sons, was one of the most important health centres in the area.
The presence of a library at the place where spiritual healing, water,
sleep, and physical therapy have been used shows that academic studies
also were conducted. The baroque reliefs and pathetic figures of the
Altar of Zeus, which are regarded as masterpieces of creative genius,
inspired later works such as the "Laocoon sculpture." The reliefs were
partially removed from the altar, taken to Germany and are now exhibited
in Pergammon Museum in Berlin.